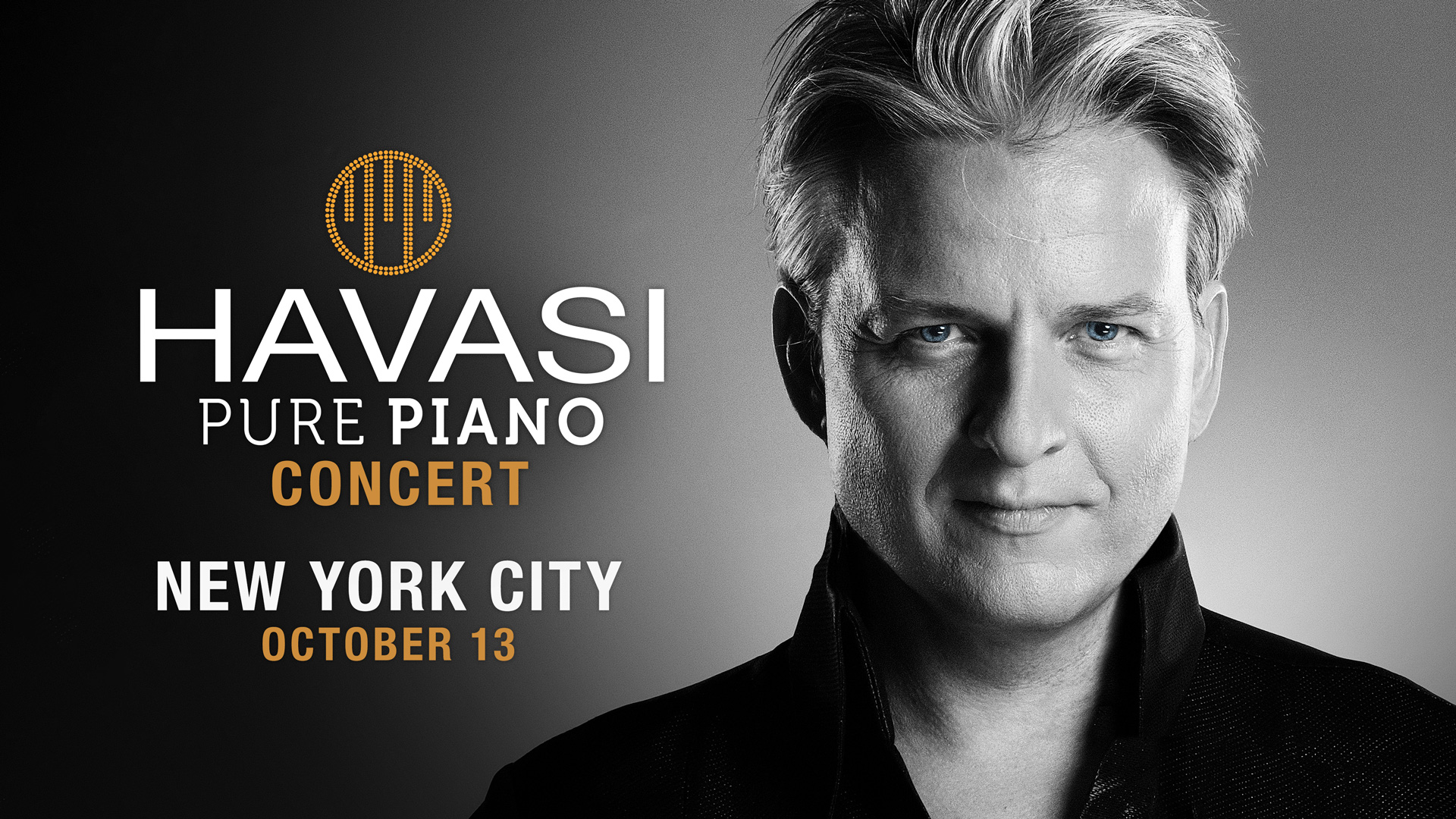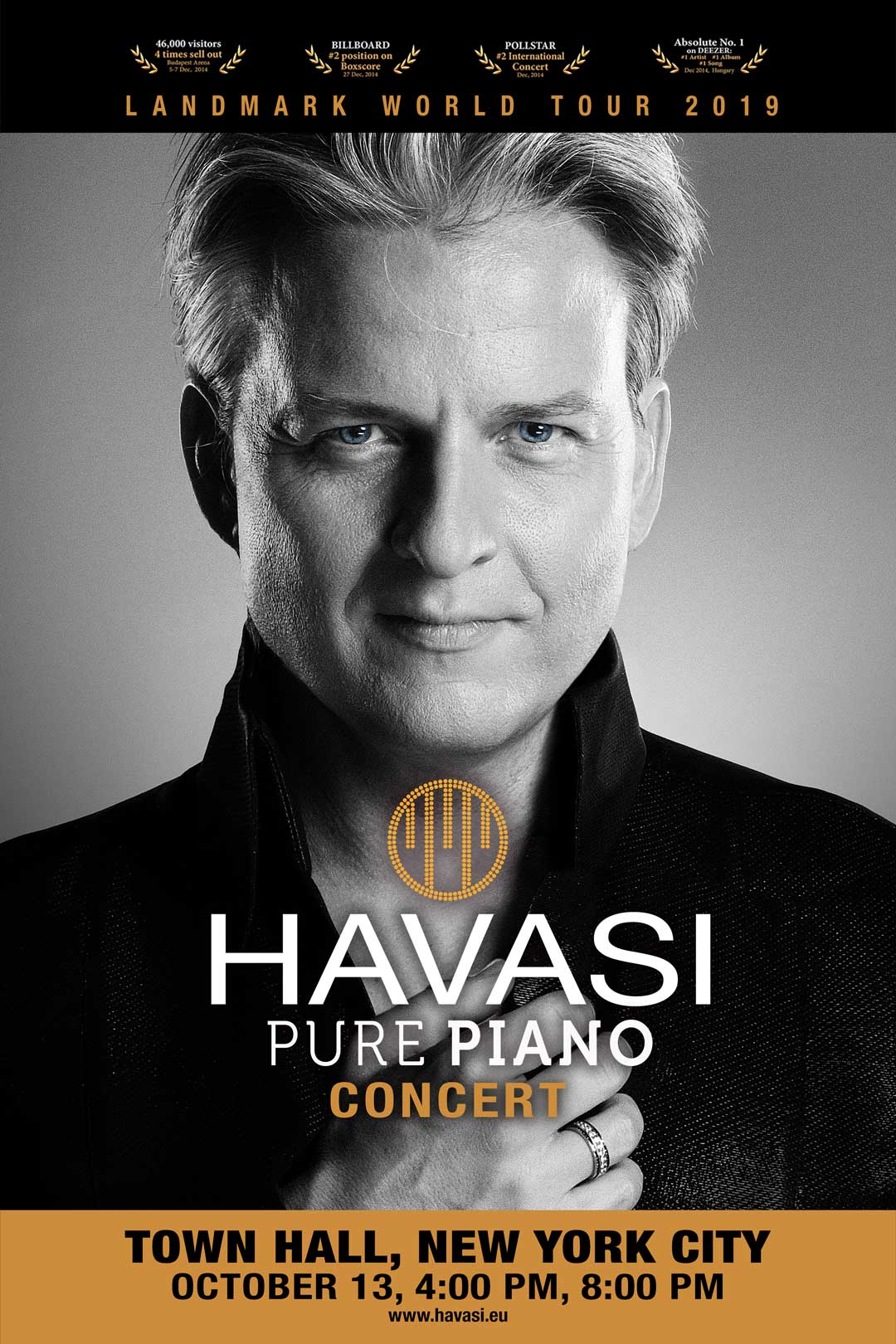 October 13, 2019

Sunday, 4:00 PM

October 13, 2019

Sunday, 8:00 PM
Ticket Information:
| Cat: | Regular: | Child: |
| --- | --- | --- |
| I | $117.00 | $59.50 |
| II | $87.00 | $44.50 |
| III | $57.00 | $29.50 |
50% Child Discount
Up to 18 years
Official tickets are only available from Ticketmaster. Tickets for children and young people up to the age of 18 are available with 50% discount. Join the official event for updates about the concert: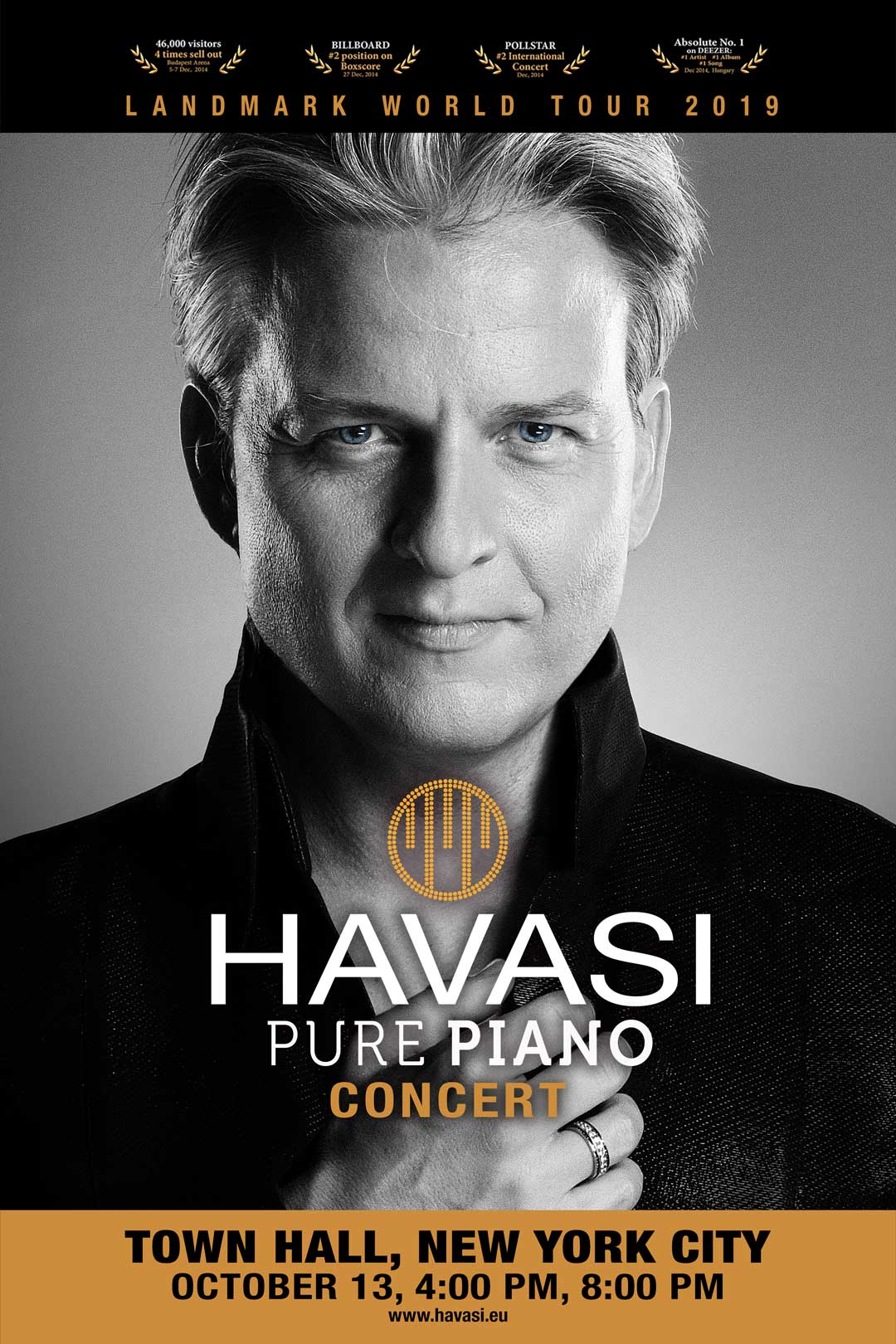 ---
HAVASI in New York City
Following his hugely successful debut at New York's Carnegie Hall, the Sydney Opera House and the Barbican in London, HAVASI returns to New York City with exclusive solo piano performances of his latest compositions at the Town Hall.
Unlike anything you've heard before
The program is 100% original solo piano works by one of the most fascinating and versatile young composers of today, HAVASI. His innovative music is unlike anything you have heard before; fresh, passionate and entertaining at the same time.
Pure Piano
This is a rare and unique opportunity to meet the modern classical composer who usually only performs in the largest stadiums in Europe. In this special concert he will be playing to an audience sitting virtually right next to him.
Expect to be surprised: even today a single piano is perfectly enough for a charismatic artist to deeply move and entertain the audience, while he reveals his secrets about the music that has captivated the hearts of so many people worldwide.
Family-friendly Concert
HAVASI's charismatic personality, showmanship and the stunningly spectacular visual component of the show is engaging entertainment for the entire family where children can encounter the piano in a modern setting they will truly enjoy. 50% discount is available for children and young people up to the age of 18.
About HAVASI
A graduate of the world-renowned Franz Liszt Academy of Music, with a deep knowledge of classical tradition, who is also seeking to make classical instruments relevant to the modern age in a deeply moving yet entertaining way. He has performed his original compositions at some of the world's most prestigious concert halls, such as the Carnegie Hall in New York or the Sydney Opera House. Havasi is one of the rare contemporary composers with the rock star-like charisma that can sell out huge stadium concerts. He played to 46,000 people, filling the Budapest Arena 4 times over in a single weekend. In recent years he also sold out the Mercedes-Benz Arena in Berlin, the Tauron Arena in Krakow and the Wiener Stadthalle in Vienna. HAVASI Symphonic has been a Billboard #2 international concert, #1 album on iTunes, and an absolute #1 on Deezer: #1 Artist, #1 Album, #1 song.
Join the newsletter for HAVASI concert news: